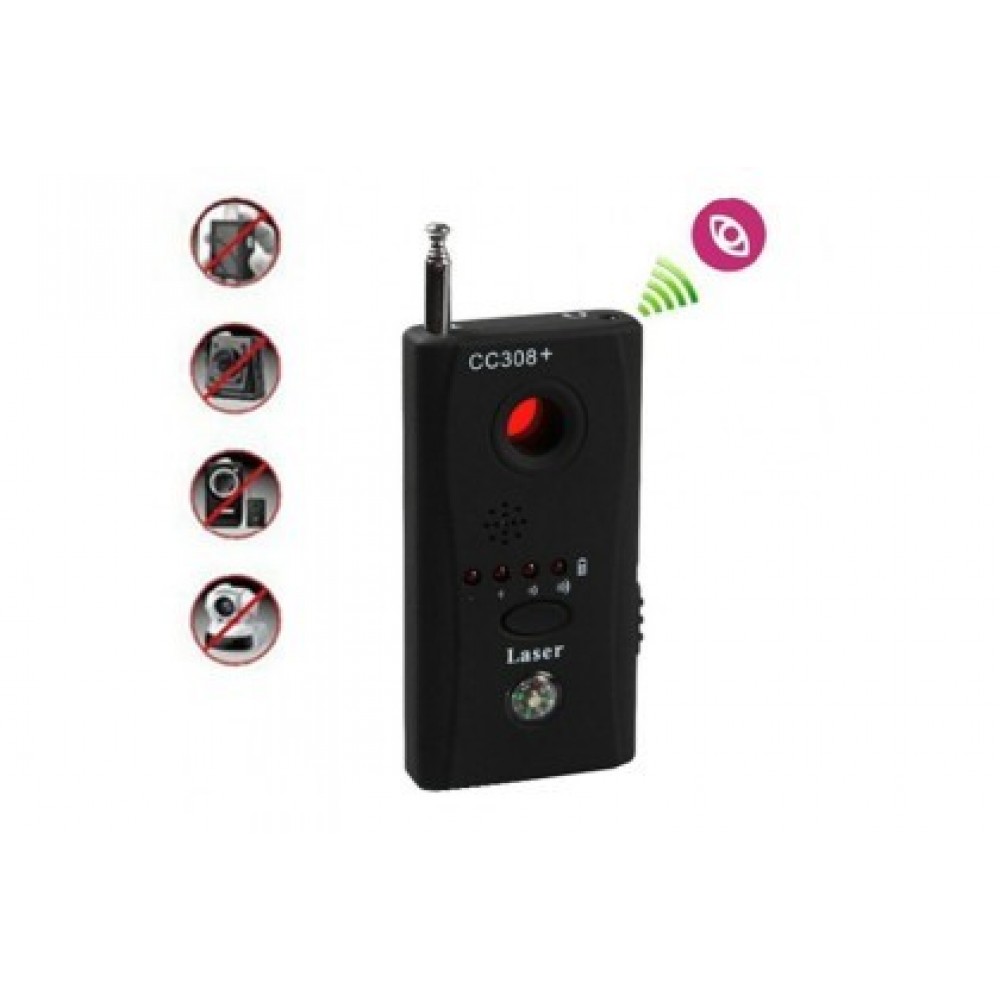 CC308 Spy Wireless Bug Hidden Camera Detector
Product Code:
CC308 Spy Wireless Bug Hidden Camera Detector
Product Description
Cc308 Spy Wireless Bug Hidden Camera Detector. The Cc308 Dual Mode Detector Can Detect and Locate Any Wired, Wireless Hidden Camera and Rf Device With Working Frequency Between 1mhz - 6.5 Ghz, Including Gsm, Vhf, Uhf Bugs, Trackers. It Can Also Detect and Locate Spy Camera Lens Through Laser Scanning. It Is Equipped With Auto-detecting Function, Once It Detect Bugs, It Will Vibrate, Beep and Led Light Flicker.
Highlight
Eavesdropping Device Pinhole Killer.

Frequency Detection Range (1mhz-65ghz).

Very Small Size, Very Convenient for Carrying Parameter Table.

Built-in Rechargeable Lithium-ion Battery. Can Be Used Continuously for 2~3 Hours.

Laser Detection Camera Distance of 0.1m-10m (the Naked Eye Can Identify Red Flashing).

Can Effectively Detect the Surrounding Eavesdropping Equipment, Pinhole Camera, Casino Gambling Fraud, Etc.

This Detector Can Be Used by Everyone and Everywhere Who Want's Protect Their Privacy or Find the Gsm Device/hidden Camera.

Function Laser Detection, Vibration Detection, Beep Detection, Signal Strength Led Display Indicator, Headset.
Applicable
Banks, Postal Financial Institutions Such as the Prevention of Pinhole Camera Candid Personal Passwords, Military Installations or Government Agencies Prevent Confidential Leaks in Hotels and Other Places, Public Places of Violation of Personal Information and Content, Pool and Gym Changing Room, Anti-pinhole Camera Traffic School, Exam Cheat-proof..
Technical Parameter
Laser Detection Range: 0.1m~10m

Radio Wave Detection Range: 0.05m~20m

50πw-200πw Detection Range: 0.3~0.5m

300πw-600πw Detection Range: 1~2m

800πw-1200πw Detection Range: 3~20m
Functional Description
Model: Cc308

Color: Black

Material: Abs

Frequency Range: 1mhz~6500mhz

Work Time: 2~3 Hours

Battery: 280mah Rechargeable

Interface: 3.5mm Jack Input

Charge Voltage: 5v/1a

Charging Type: 2.50mm Connector

Size: 15 * 47 * 92mm

Weight: 0.04 Kg
Package Included
1 * Cc308 Detector

1 * Charger

1 * Headset

1 * User Manual