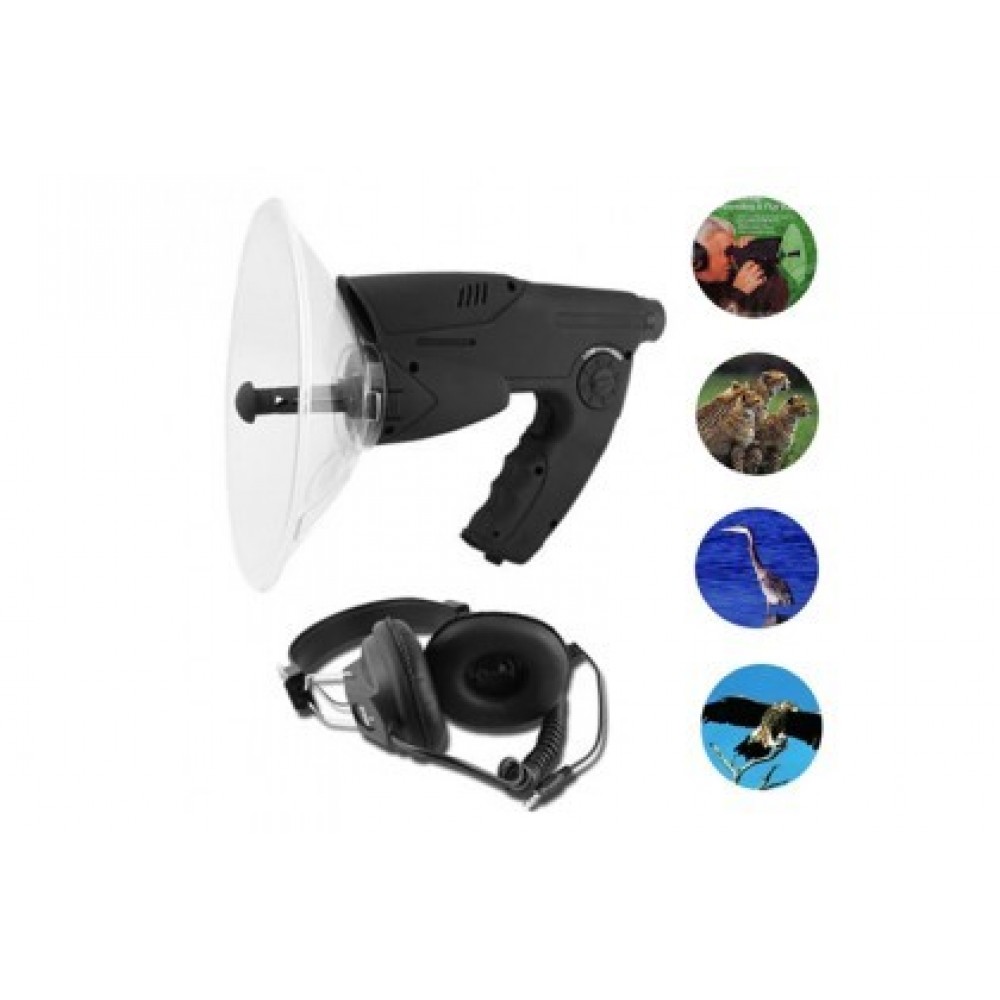 Parabolic Spy Bionic Ear Sound Amplifier + X8 Zoom Monocular Device
Product Code:
Parabolic Spy Bionic Ear Sound Amplifier + X8 Zoom Monocular
Product Description
This Parabolic Microphone Sound Amplifier and Monocular Will Enable You Hear and See Clearly Sounds Up to 300feet Away. The Built in 8x Magnification Monocular Will Let You See Your Target Whilst the Parabolic Dish With Adjustable Sensitivity Microphone Will Let You Hear Your Target Clearly. Typical uses of this microphone include nature sound recording such as recording bird calls, field audio for sports broadcasting, and eavesdropping on conversations, for example in espionage and law enforcement. Parabolic microphones were used in many parts of the world as early as World War II, especially by the Japanese.
Highlight
Hear & Record Sounds Over 100 Meters.

See 8 Times Closer With Built-in 8x Monocular.

Ideal Telescope for Studying Birds and Wildlife.

Even the Faint Sound of Birds Are Detected Easily.

With High Sensitivity, Can Pick Up a Human Conversation at a Distance.

Design for Outdoor Person, Hunting, Sporting or All Entertainment Venues.

Bird Watchers and Nature Lovers Will Be Thrilled at the Sound Quality of This Ingenious Listening Device.

12 Second Record and Playback Feature With Auto-overwrite That Allows You to Keep a Record of the Most Important Dealings.
Functional Description
Color: Black

Audible Enforced Frequency: 100hz ~ 10kz

Sound Distance: 100 Meters Max

Monocular: Magnification 8x

Sound Record: 12 Seconds (Auto-overwrite)

Battery Type: 9v Battery (Not Included)

Earphone Slots: 3.5mm Earphone Jack

Sound Gun Size: 55 * 175 * 280mm

Sound Dish Size: Dia 210mm

Weight: 0.50kg
Package Included
1 * Sound Amplifier + Monocular Device

1 * Stereo Earphone

1 * User Menual